Od muzyki zależy klimat i styl Waszej uroczystości. To co zostanie zagrane pozostanie na długie lata utrwalone przez kamerzystę na filmie ślubnym. Podczas Waszego ślubu i wesela jest mnóstwo momentów do których będziecie musieli wybrać muzykę. Można dziś wybierać z bogatych playlist które dostarczą wam wokalistka, skrzypaczka na ślubie, zespół czy DJ na wesele, albo wyszukiwarka google. Ważne aby oprócz uniwersalnej klasyki disco polo która zwykle gości na polskim ślubie i weselu, znalazły się też mile wspominane przez Was lub ambitniejsze utwory w waszym guście. Muzyka powinna odzwierciedlać Wasza osobowość, i być lubiana przez was obojga.
Gotowe playlisty na Dzień Ślubu
Są momenty szczególne do których powinniście mieć koniecznie wybraną muzykę, jak np. wyjście z kościoła, pierwszy taniec, czy tort.
Jeśli jeszcze nie macie swojej playlisty i trudno Wam zdecydować co wybrać z muzyki na Wasz ślub i wesele, możecie zerknąć na jedną które zamieściłem niżej.
WESELE – Pierwszy Taniec
All Of Me – John Legend
At Last – Etta James
Perfect – Ed Sheeran
Thinking Out Loud – Ed Sheeran
I'm Yours – Jason Mraz
Let's Stay Together – Al Green
How Long Will I Love You – Ellie Goulding
Something – The Beatles
Your Song – Elton John
I Don't Want To Miss A Thing – Aerosmith
The Luckiest – Ben Folds
Wherever You Will Go – Charlene Soraia
A Thousand Years – Christina Perri
Stand By Me – Ben E. King
Iris – The Goo Goo Dolls
Amazed – Lonestar
Wonderful Tonight – Eric Clapton
This Will Be (An Everlasting Love) – Natalie Cole
I'm Kissing You – Des'ree
Can't Help Falling In Love – Elvis Presley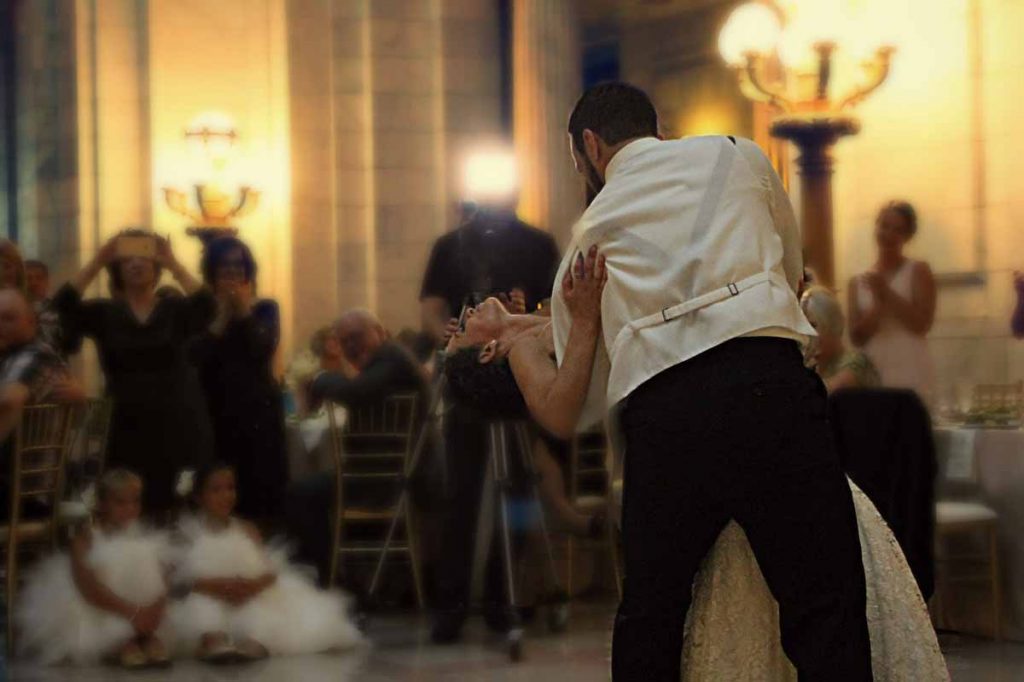 Pierwszy taniec jest wyjątkową chwilą na weselu. Jeszcze raz w Dniu Ślubu stajecie przed wszystkimi gośćmi aby potwierdzić swoje uczucia tanecznym TAK. Układ taneczny, czyli choreografia najczęściej jest układana dla Was w szkole tańca przez instruktora. Pomimo to możecie zaczerpnąć inspirację od układów innych Par Młodych, z filmów np. Dirty Dancing ( Jenifer Grey, Patrick Swayze, czy Zatańcz ze mną ( Jennifer Lopez, Richard Gere ). Możecie sami też mając trochę czasu i miejsca do prób wymyślić choreografię na swój pierwszy taniec. Nie polecam pójścia na żywioł, nawet jeśli nie raz ze sobą już tańczyliście.
Najlepsza muzyka klasyczna do kościoła
Ślub który zawieracie w kościele, to miejsce i chwila na wyjatkowa oprawe muzyczną. Unikalny klimat zawsze nadaje muzyka klasyczna, starodawana. Nie często wynonania instrumentalme współczesnej muzyki równie dobrze konkurują z dawnymi utworami.
Ave Maria – Franz Schubert
Ave Maria di Caccini – Vavilov – Nina Solodovnikova
The Prince of Denmark's March – Jeremiah Clarke
Ave Maria – BaJohann Sebastian Bach
Halleluja, aus dem Messias HWV 56 – Friedrich Händel
Sicilienne – Maria Theresia von Paradis
Tedeum, Prélude, aus dem Te Deum D-Dur – Charpentier, Marc-Antoine
Toccata D-Dur – Krieger, Johann
Walther, Johann Gottfried – Lobe den Herren, den mächtigen König der Ehren
– Fantasie C-Dur BWV 573
– Adagio C-Dur, aus BWV 564
– Gavotte, aus der Hochzeitskantate BWV 202
– Air, aus der Ouvertüre D-Dur BWV 1068
– Grave, aus dem Piéce d'Orgue BWV 572
– Jesus bleibet meine Freude, aus BWV 147
Sarabande d-Moll HWV 437 – Friedrich Händel
Larghetto, aus Xerxes HWV 40 – Friedrich Händel
Stanley, John – Trumpet Voluntary
Kittel, Johann Christian – Präludium G-Dur
Kellner, Johann Christoph – Vor- oder Nachspiel

Rinck, Johann Christian Heinrich:
– Präludium F-Dur
– Nun danket alle Gott

Hensel-Mendelssohn, Fanny – Präludium F-Dur
Mendelssohn Bartholdy, Felix – Präludium C-Dur
Mendelssohn Bartholdy, Felix – Hochzeitsmarsch, aus "Ein Sommernachtstraum" op. 61

Franck, César – Grand Choeur, Poco lento (Vieux Noël), Allegretto (Noël angevin
Lemmens, Jaques-Nicolas – PrièreGuilmant, Félix-Alexandre – Sortie
Rheinberger, Joseph Gabriel – Cantilene F-Dur, aus der Sonate Nr. 11 op. 148
Elgar, Edward – Pomp and Circumstance, aus dem Military March No. 1 op. 39
Boëllmann, Léon – Verset
Courtonne, Marcel – Grand Choeur pour Entrée
Göttsche, Gunther Martin – Wedding Prelude op. 55, 6
Morning has broken
Amazing Grace
Lista najlepszych piosenek na wesele.
Single Ladies (Put a Ring On It) – Beyoncé
Summer of '69 – Bryan Adams
Sweet Child O' Mine – Guns N' Roses
Crazy Little Thing Called Love – Michael Bublé
Dancing in The Moonlight – Toploader
On the Floor – Jennifer Lopez
Valerie – Amy Winehouse
Marry You – Bruno Mars
Walking On Sunshine – Katrina & The Waves
Come on Eileen – Dexy's Midnight Runners
Gimme All Your Lovin – ZZ Top
I Wanna Dance With Somebody – Whitney Houston
9 to 5 – Dolly Parton
Mr. Brightside – The Killers
Wake Me Up Before You Go-Go – Wham!
(I've Had) The Time of My Life – Bill Medley & Jennifer Warnes
I'll Be There for You – The Rembrandts
Macarena – Los del Río
Mambo No. 5 (A Little Bit Of…) – Lou Bega
As Long As You Love Me – Backstreet Boys
I Don't Feel Like Dancin' – Scissor Sisters
Let's Twist Again – Chubby Checker
Power of Love – Huey Lewis & The News
The Best – Tina Turner
Friday I'm In Love – The Cure
Hey There Delilah – Plain White T's
Live and Let Die – Guns N' Roses
One Love – Blue
We Don't Have To Take Our Clothes Off – Jermaine Stewart
C'est La Vie (You Never Can Tell) – Pulp No Pulp
Club Tropicana – Wham!
Is This The Way To Amarillo – Tony Christie
Man! I Feel Like a Woman! – Shania Twain
Moves Like Jagger – Maroon 5 feat. Christina Aguilera
Sexy and I Know It -LMFAO
Sir Duke – Stevie Wonder
Walk Like an Egyptian – The Bangles
Crocodile Rock – Elton John
Don't Stop Believin' – Journey
Everybody Have Fun Tonight – Wang Chung
Eye of the Tiger – Survivor
Footloose – Kenny Loggins
Girls Just Wanna Have Fun – Cyndi Lauper
Heads Will Roll – Yeah Yeah Yeahs
Living on A Prayer – Bon Jovi
Reach – S Club 7
Y.M.C.A – Village People
All About That Bass – Meghan Trainor
Always – Bon Jovi
Greatest Love of All – Whitney Houston
Hakuna Matata – The Lion King
Hollaback Girl – Gwen Stefani
I Gotta Feeling – The Black Eyed Peas
It's Raining Men – Geri Halliwell
Love Is In The Air – Tom Paul Jones
Mamma Mia – ABBA
The One And Only – Chesney Hawkes
A Groovy Kind of Love – Phil Collins
All I Want Is You – Barry Louis Polisar
Beautiful People – Labrinth
Best Song Ever – One Direction
CAN'T STOP THE FEELING! – Justin Timberlake
Could It Be Magic – Take That
Everyday People – Various Artists
Everywhere – Fleetwood Mac
I Was Born To Love You – Freddie Mercury
Lay All Your Love On Me – ABBA
Oh, Pretty Woman – Roy Orbison
The First Time Ever I Saw Your Face – Roberta Flack
Three Little Birds – Bob Marley & The Wailers
Together in Electric Dreams – Giorgio Moroder and Philip Oakley
Father Daughter Dance – Wayne Jacobs
If I Fall to Your Heart – Derwent Hannon
Call Me Maybe – Carly-Rae Jepsen
All Of Me – John Legend